Kubota U10-5 Mini Excavator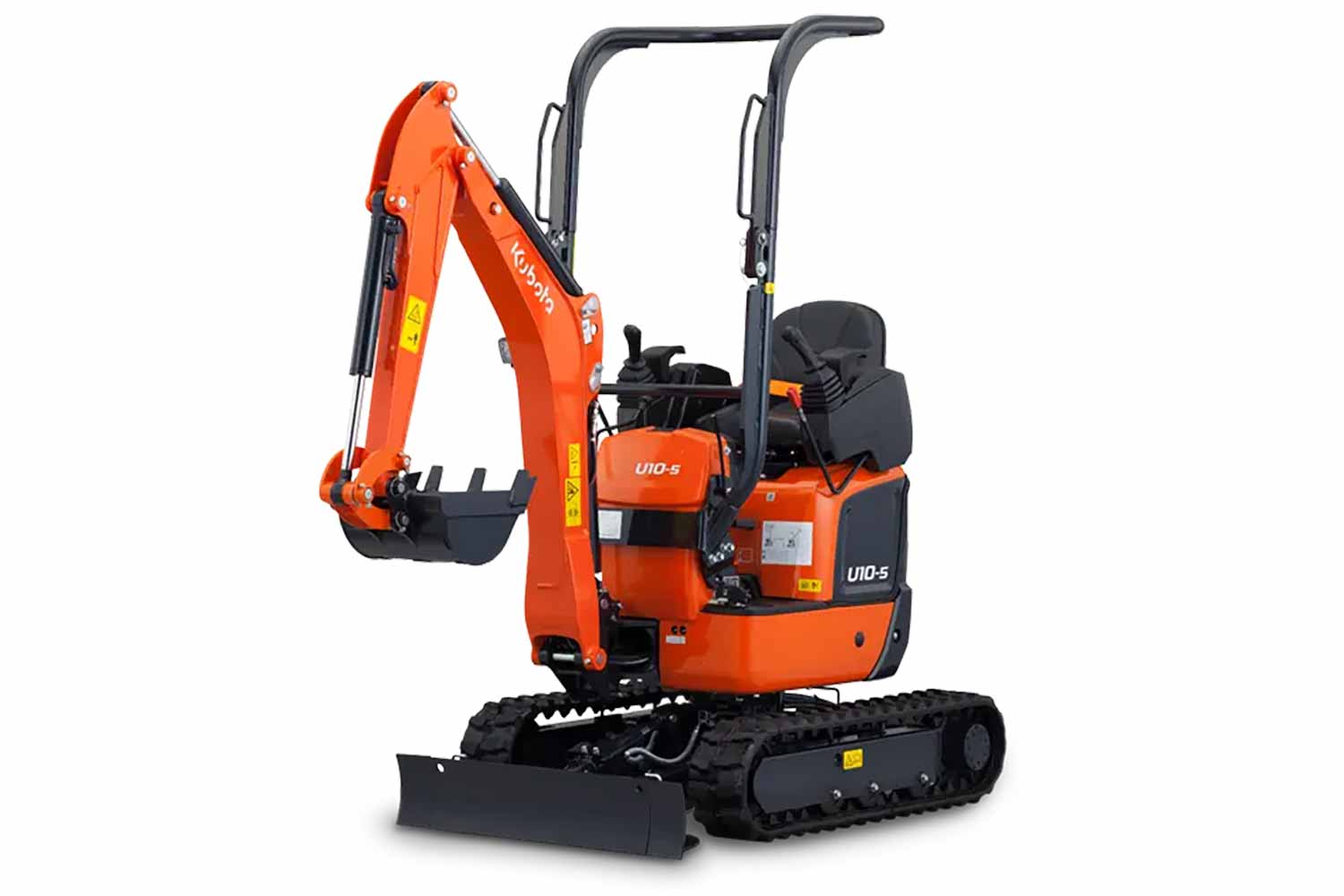 Engine gross horsepower: 10.3 HP (7.6 kW)
Bucket breakout force: 1,212 lbs. (550 kg)
Operating weight: 2,645 lbs. (1,200 kg)
Zero Tail Swing
Worry-free operation in tight spaces thanks to zero tail swing design.
Retractable Tracks
Features retractable tracks that can slim down to 2'6" or expand to 3'3" for better stability.
Side Joystick
Easy and simple operation accompanies you for the tough jobs ahead.
Two Pattern Selector System
Easily transition between excavator and backhoe patterns by shifting a lever.
Premium Coupler
Allows quick exchanges between bucket and attachments, the bucket can be reversed to allow the operator to scoop away from the excavator.
Comfortable Workstation
Generous leg room and a fully-padded high-back chair create a comfortable place to get things done.
Kubota U17 Mini Excavator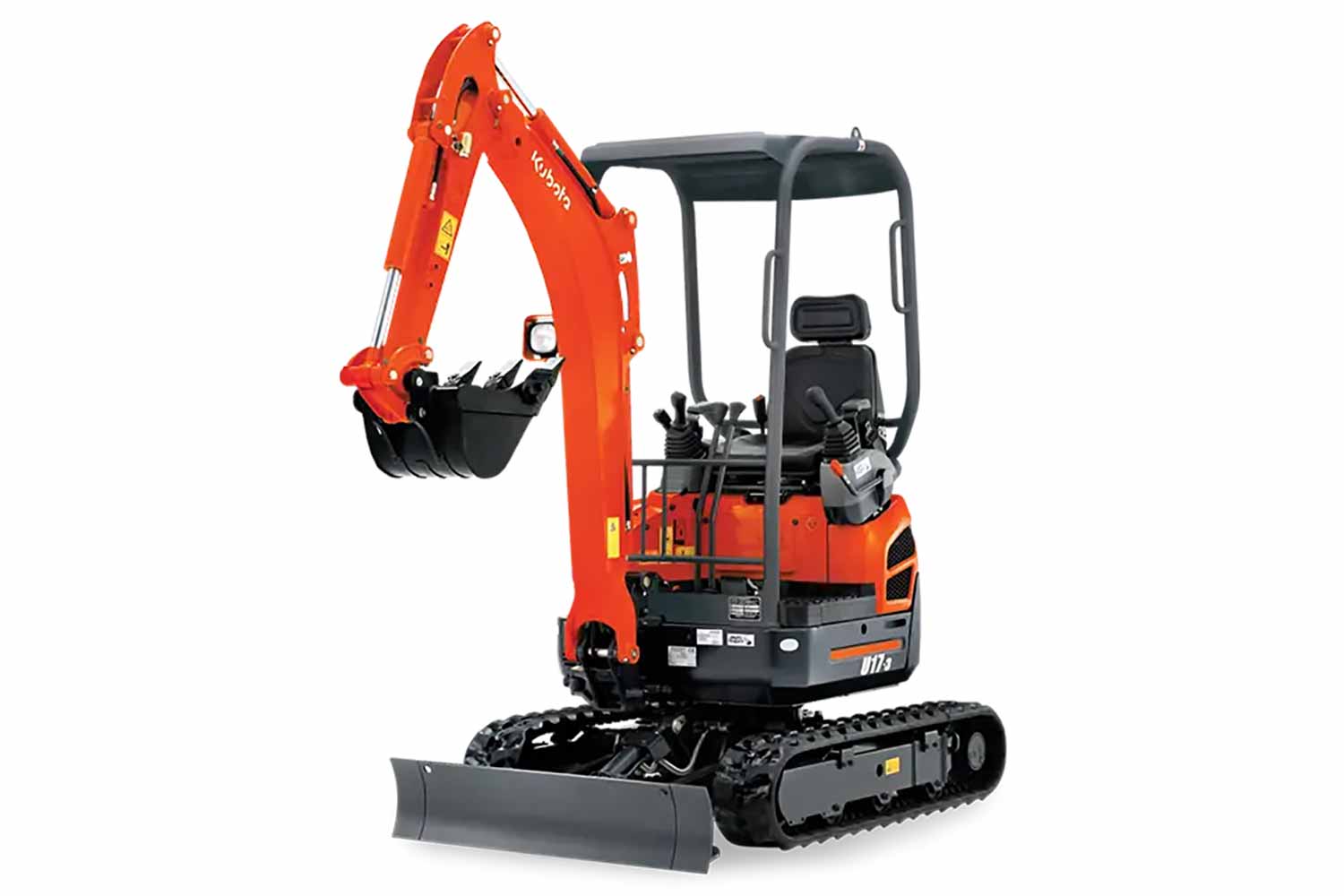 Engine gross horsepower: 17 HP (12.7 kW)
Bucket breakout force: 3,417.2 lbf (1550 kgf)
Operating weight: 3,814 lbs. (1,730 kg)
Zero tail overhang
Zero-tail swing means you'll never again worry about what is to the side or behind you while you work. No matter how far you turn, the tail always remains within the width of the tracks. Zero-tail swing also ensures excellent balance, stability and faster operation, making the U17 ideal for jobs in congested areas.
Kubota Tier 4 diesel engine
Greater efficiency, clean burning with low noise and vibration.
Variable track width
The U17 features a hydraulic track gauge that can be adjusted to between 3′ 3″ and 4'1″ (990 mm and 1,240 mm). With the touch of a single lever, you can reduce the track gauge to navigate narrow spaces or increase it to improve functionality.
Two-speed travel
By placing the 2-speed travel switch on the dozer lever, dozing operations have become faster and easier.
Two Pattern Selector System (TPSS) with pilot control hydraulics
TPSS is standard equipment, allowing the operator to select the most familiar operating control pattern, either ISO or SAE.
Rollers & crawler
Like many higher-end excavators, the U17 features double-flanged track rollers and short-pitched rubber crawlers for improved undercarriage durability. The double-flanged track rollers help improve travel stability and performance, and the short-pitched rubber crawlers help minimize vibration during travel for improved operator comfort.
Auxiliary hydraulic system
The U17's auxiliary hydraulic system accommodates a variety of attachments, such as breakers and augers. Standard equipment includes port pipes on the arm, bi-directional auxiliary hydraulic controls, and a control valve. The auxiliary hydraulic connections are located within easy reach and incorporate short hoses that are less likely to become tangled or damaged.